Liquid biofuels in action
You'll find some great examples of case studies of liquid biofuels in action throughout New Zealand with applications associated with tourism, heavy transport and fishing.
Contact us if you have any case studies to share, we welcome contributions and suggestions.
Bioenergy Knowledge Centre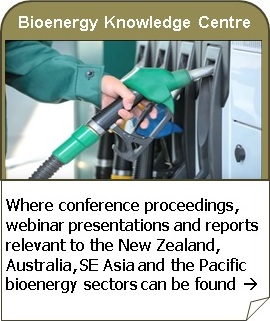 In the Bioenergy Knowledge Centre you will find comprehensive information about bioenergy, including the Bioenergy Strategy, Information Sheets, media releases,  presentations, submissions and technical guides relevant to the bioenergy sectors in New Zealand, Australia, SE Asia, the Pacific and other international locations. 
Documents held in the Bioenergy Knowledge Centre are available free to members and by purchase to non-members. 
Bioenergy Facilities Directory
The Bioenergy Facilities Directory has been developed to facilitate the promotion of bioenergy projects.  You can search for information by type and location and find the contact details for relevant specialists and service providers.
The Facilities Directory holds a wide range of uses of bioenergy in New Zealand, Australia, SE Asia and the Pacific submitted by companies with bioenergy facilities in operation overseas.
Click on the map below to begin to search projects by type and location.